Dry Hair Could Be Causing Your Frizz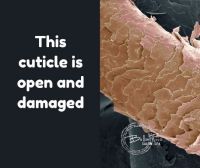 Dry hair could be the reason that your hair is getting frizzy. Dry hair is thirsty for moisture and when it detects moisture in the air the cuticle will open to get a drink.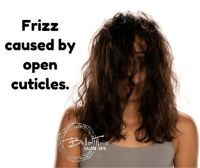 When the cuticle is open on all of your hair strands, they get tangled together and cause the hair to become frizzy or have a lot of flyaways.
The right products can help you hydrate your hair and help the battle against frizz. Bella Trio has several options for you to choose from.

Surface's Bassu
Adds moisture and balance. Bassu Moisture is complete with the healing blend of Aloe Vera, Omega-3, and antioxidant-rich Flax Seed Oil. Shop Bassu Products
Shu Uemura's Urban Moisture
Adds hydration and protection against future dryness that shields strands from urban aggressors such as dust, pollution, and hard water.
L'Oreal Professionel's Liss
Rehydrates rebellious hair with nourishment and Pro-Keratin to help discipline your hair 4 ways. Buy Liss Now
Kerastase's Discipline
Adds weightless smoothness, anti-frizz action and anti-humidity protection that moisturizes dry hair and delivers sleek and shiny hair.
Kerastase's Nutritive
Targets extremely dry hair symptoms at the core with a custom routine for dry hair. You will see healthier, shinier and softer hair.
Bella Trio is a full-service salon in Durham, North Carolina. If you are looking for a new hair stylist, esthetician, or massage therapist, we have personalities to connect with everyone. Browse all our provider profiles and check out our latest work on Instagram.
E-mail info@bellatrio.com for product information. All links are non-affiliate.